ChemInventory's GHS label generator allows you to create labels that comply with Globally Harmonized System (GHS) regulations. Information shown on labels includes pictograms, hazard statements and precaution statements.
GHS labels can be a useful addition to your inventory, ensuring that safety information is available readily to researchers in the laboratory. Some freight companies may also require GHS labelling on containers being sent off site.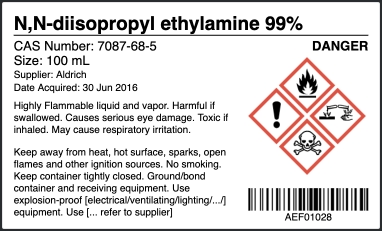 The generation tool sources GHS information from ChemInventory's built-in GHS database, as well as any GHS information you have added to your own inventory. This includes any GHS information extracted automatically from any (M)SDS files that have been uploaded into your inventory. The container's barcode number is also shown on generated labels.
Creating labels
GHS labels can be created by users with Group Administrator privileges from the Inventory Management page. From the Barcodes/Labels menu, select the Create GHS Labels item. You can adjust the size of your labels by specifying dimensions in the top left corner. Your labels must be at least 50mm by 25mm in size. There is no maximum dimension limit.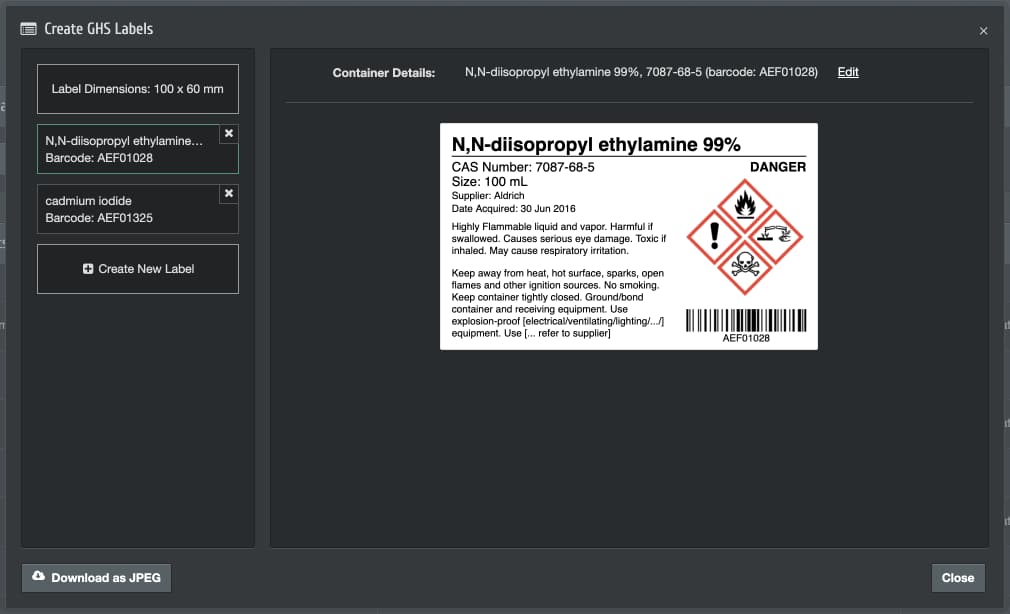 To generate a label for a container, click on the Container Details link at the top of the interface then enter its barcode number. More than one label can be created at a time by clicking on the Create New Label button to the left side.
Printing labels
When you're ready to print your labels, click on the Download as JPEG button in the bottom right corner of the tool's interface. Your browser will download a ZIP file that contains high resolution JPEG files of your labels.
If you use an individual barcode printer, you can load these image files into the software provided by the printer manufacturer. Alternatively, if you use pages of peel-off labels (such as address labels) then you can position label images in a word processor before printing. We recommend that a document template is used for this positioning (these can be downloaded from label sheet suppliers).