Users with enterprise administrator privileges have access to the enterprise management panel, which has a range of tools to help with the management of data across an enterprise license. This includes chemical search capabilities, regulatory reporting features, site management functions and more.
For a full description of how inventories and sites can be structured under enterprise licenses, and the difference between site and enterprise licensing, please refer to the license types support page.
Enterprise management panel
The enterprise management panel can be opened from the site management pages by clicking on the Enterprise Admin button in the top right corner. If your user account also has access to an inventory, after signing in you will first need to access the site management pages before you will be able to open the enterprise panel.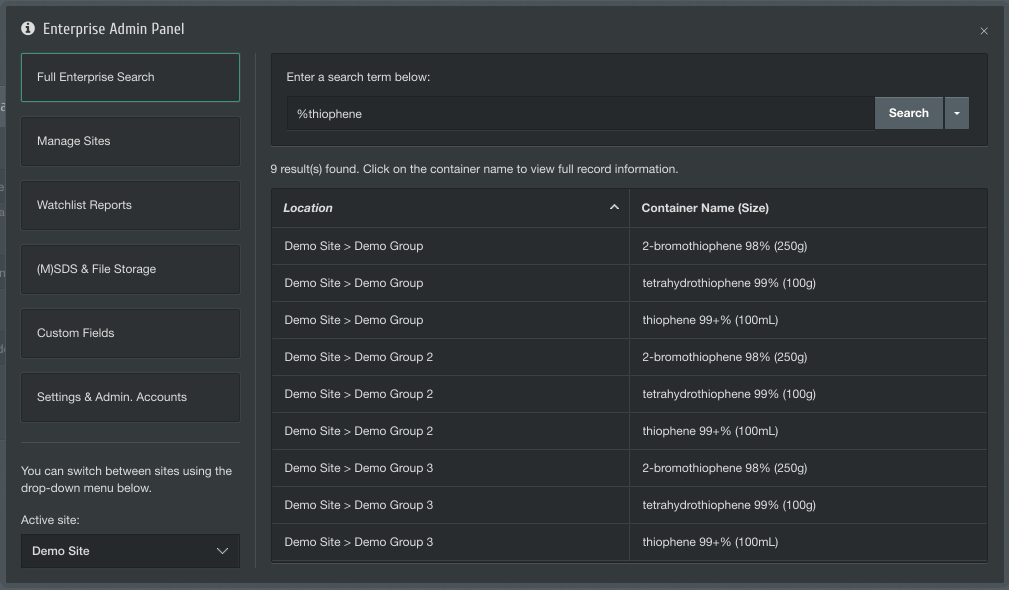 There are a variety of functions available to you from this management panel, separated by page on the left list.
Full Enterprise Search
From the search page, you can search for containers across all inventories under all sites in your enterprise structure. When searching, ChemInventory will find results by name (and synonym), CAS number or container barcode.
Any matching containers found will be displayed in the results table. If you wish to sort columns by name or location, click on the column header. If you wish to view more information about a particular container in the results list, you can click on its name to open its information panel.
You can also filter by GHS hazard and chemical structure by using the dropdown menu to the right of the search box.
Manage Sites
It is possible to create new sites within your enterprise license structure from the Manage Sites page. There are no limits on the number of separate sites you can have within an enterprise license. If you would like to add site administrators, or perform other site management functions, use the Active site dropdown menu to switch into the site (more information below).
Watchlist Reports
The watchlist reports tool at the enterprise level enables you to generate reports detailing your organization's current holdings of chemicals on pre-defined lists, across all inventories on all sites. The report will list all information saved against applicable container records, including the values of any custom fields defined at the enterprise level.
At ChemInventory, we maintain four watchlists corresponding to the Chemical Weapons Convention Schedules 2 and 3, the European Union REACH candidate list and the United State DHS Appendix A list. It is possible to create any number of your own custom watchlists if you are subject to other regulations. Any custom watchlists you create will be available to site and inventory administrators within your enterprise structure.
If you wish to receive an email whenever a new container record is added to an inventory within any site in your enterprise structure, you can enable email alerts from the dropdown menu alongside the applicable watchlist entry. The system can be configured to send email alerts to any users with enterprise administrator privileges.
(M)SDS & File Storage
As for individual inventories and the site management pages , it is possible to upload and store files at the enterprise level. Files uploaded here are available to all inventories across all sites in your enterprise structure.
During the upload process, ChemInventory will attempt to link automatically the uploaded file to the most relevant substance and will extract any GHS information for substances where GHS data is not already present in your database. You can also create categories to help organize uploaded files.
Custom Fields
Custom fields allow users to store additional information for containers alongside ChemInventory's default fields. Any custom fields that are defined at the enterprise level are made available across all inventories and sites within your enterprise license structure.
For an overview about different data types available and the difference between container and substance fields, please refer to the custom fields support page.
Settings & Admin. Accounts
From this page, you can configure enterprise settings (e.g. barcode duplication warning behavior) and manage user accounts who have enterprise administrator privileges.
Switching sites
From the enterprise management panel, you can switch your active site using the dropdown menu at the bottom of the left bar. All active sites within your enterprise structure will be included on this list.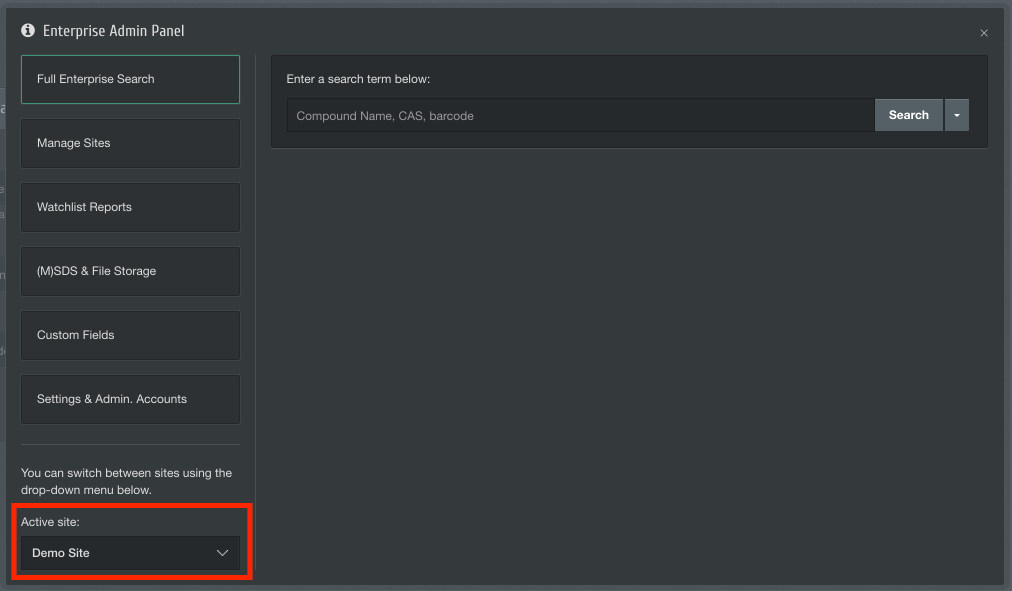 After selecting a site from this menu, the page will refresh and the enterprise management panel will reopen. You can access the site management pages for the selected site simply by closing the enterprise management panel.