The Admin Panel page offers a range of administrative functions to help you manage data within your site. You can also create new site administrator accounts from this page.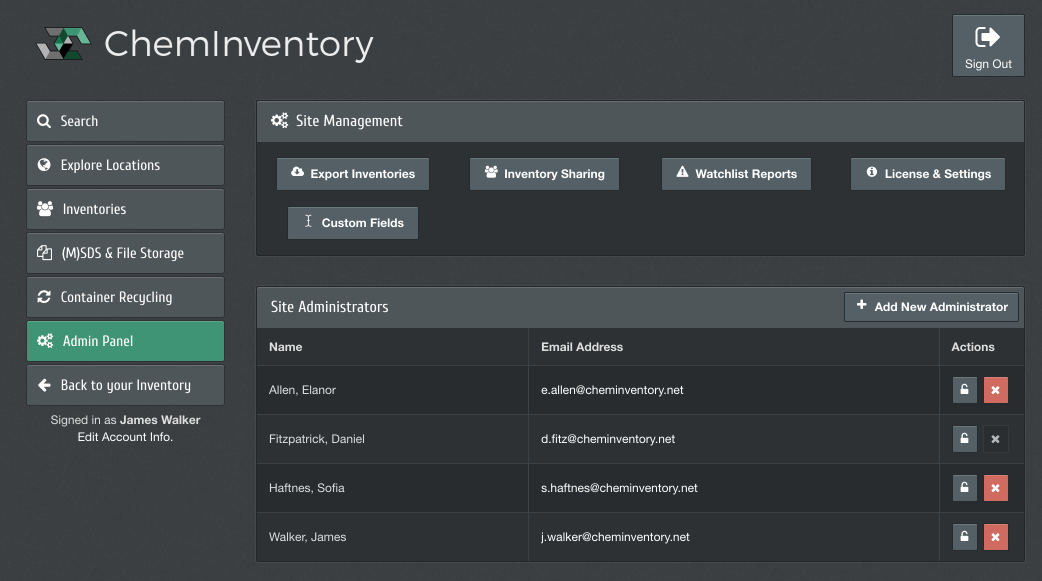 Managing administrator access
The Site Administrators list will display all users in your site who have site administrator privileges for your license. Users with these privileges are able to access the site management tools, including the Admin Panel page.
There are no limits on the number of site administrators within a site license. If your site is within an enterprise license, individual users can only be added to one site at a time, unless they're granted enterprise administrator privileges in which case they can access all sites. It is not possible, for example, to add users to two sites in an enterprise license while excluding them from others.
Adding site administrators
To add a user as a site administrator for your site license, click on the Add New Administrator button at the top right of the user list. Enter user details into the panel which is displayed.
ChemInventory will check whether the supplied email address is already associated with an account in your site. If so, the existing user will be granted access to the site administrator pages. They will be able to continue accessing any inventories they previously had access to. If a user account doesn't yet exist, ChemInventory will create one and email sign in details to the specified address.
If ChemInventory has been integrated with your organization's single sign on (SSO) system, you will also be able to select how you would like the user to be authenticated. We recommend that the 'SSO' option remains selected; however, if the user does not have access to your SSO system, then a standard email address and password combination can be selected.
Modifying existing accounts
Alongside each user listed under the site administrator heading is a row of actions buttons, allowing you to reset their password (if not using SSO) or remove their site administrator privileges. When removing privileges, the user will continue to be able to access any individual inventories they have been assigned to.
Other administrator functionality
The Admin Panel page has a range of other tools, unrelated to user account management. These are displayed along the top bar, above the site administrator user list.

Full site export
The Export Inventories function can be used to generate an Excel file listing all containers within your site at a given time. This can be a useful tool, for example, if you wish to maintain snapshots of chemical holdings on site at specific dates or to maintain your own inventory backups.
The holdings of each inventory will be displayed on separate sheets in the Excel file. Any custom fields which have been defined in each inventory will be included, alongside fields defined at the site level. The report may take a few minutes to generate, depending on the size of each inventory within your site. When the file is ready it will be downloaded to your computer automatically.
Inventory sharing
The Inventory Sharing button allows you to view inter-inventory sharing settings that have been configured between inventories on site. Hover your mouse over each entry to see specific settings for inventories.
It is not possible to modify sharing settings directly using this tool. Instead, sharing needs to be set from the Inventory Management page of the applicable inventory. Further information can be found on the sharing support page .
Watchlist reports
The watchlist reports tool can aid with identifying all regulated chemicals on site easily and rapidly. More information about using this tool at the site level, including configuring email alerts, can be found on its support page .
License & Settings
The License & Settings panel lists information relating to your site license. This includes limits on the number of inventories you can have within your site (if applicable) and the date which your license is due for renewal.
It is also possible to configure the behavior of ChemInventory's barcode duplication tool, which presents warnings to users in your site if they try to assign a barcode that is already in use. If you wish to ensure that unique barcodes are assigned to each container on site, regardless of inventory, then the Across inventories on site option should be selected.
Custom fields
Any custom fields defined at the site level will be present by default for all of the inventories within your site, alongside any custom fields which have been defined by administrators within individual inventories. This tool can be useful if there are some common fields which must be present in your site regardless of inventory (e.g. Expiry Date). More information about custom fields, including data types available, can be found on the inventory support page .