This guide describes how site licenses can be structured in ChemInventory, details some of the functionality available to Site Administrators and provides an overview of the set-up process for a site license.
What is Site Licensing?
A site license enables you to use ChemInventory to manage multiple inventories within your organization. Depending on your license type, the number of inventories saved under your license may be limited to a fixed total or may be unlimited. More information about any restrictions in place may be found on the Admin Panel page (see below).
Inventories under a Site License
Your site license acts as an umbrella to hold multiple inventories on site. You are free to create and assign inventories in whichever way best suits your organization. For example, you may like to create an inventory for each division or team within your organization (e.g. Synthesis, Analytical Chemistry and Process Development). Alternatively, a structure focusing on buildings may be more appropriate. If you are based in an academic department, you could create an inventory for each research group.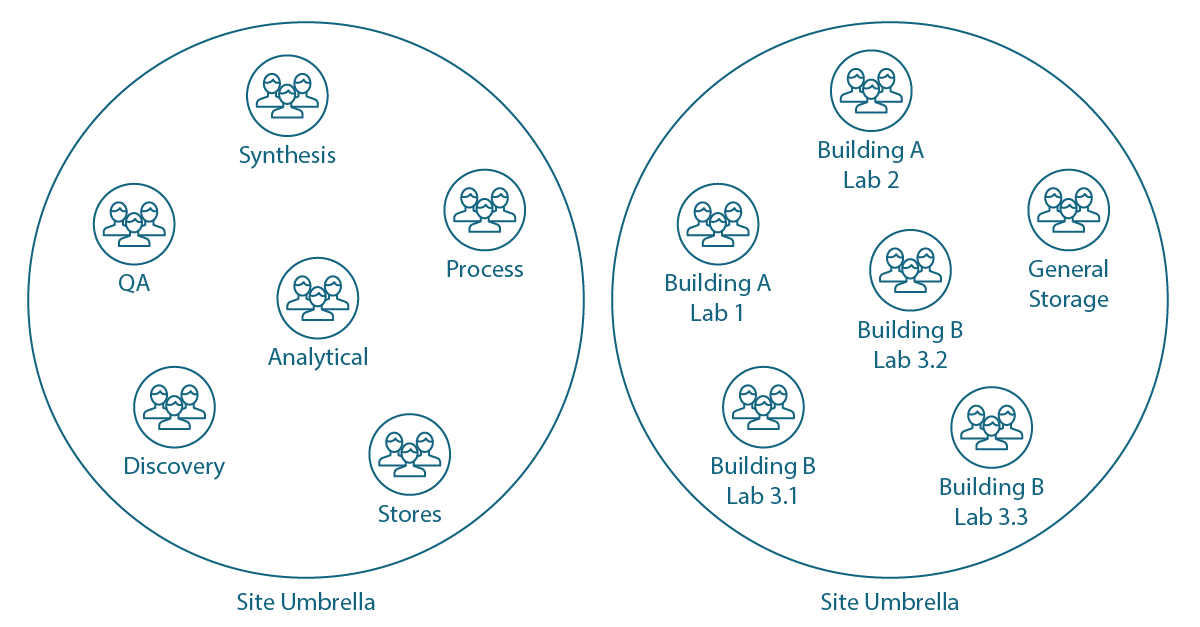 Inventories under a site license are not subject to any limits on the number of containers or users within them. For most site license types, each inventory is limited to a total of 10 GB for files uploaded to the (M)SDS and File Storage page.
Inventory & Site Management pages
In ChemInventory there are two main application views: the Inventory pages and the Site Management Tools. If a user has only access to an inventory, they will be taken to the Inventory pages immediately after signing in. Likewise, if a user has only site administrator privileges they will be taken to the Site Management Tools after signing in. If a user both has access to an inventory and is a site administrator, they will be taken to the Inventory pages after signing in but will be able to move to the Site Management Tools by clicking on the relevant link at the bottom of the left navigation bar.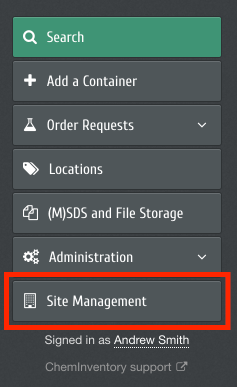 While the inventories under a site license have independence to choose how they operate, ChemInventory's Site Management Tools allow for administrative oversight. As a site administrator, you can search across all inventories regardless of specific inter-inventory sharing settings, create new and modify existing inventories, configure container recycling (more information ) and more, as detailed below.
Page-by-page
The Site Management Tools are made up of a set of pages which offer distinct functionality to help you manage the inventories under your license.
Search
The Search page allows you to search across all inventories within your site license. Results are presented by inventory, allowing you to quickly identify which inventories have hits. The name, size, CAS registry number and location of matching containers are presented in results tables.
Explore Locations
From this page you can browse all inventories within your site by location. Each inventory is contained within a parent folder in the top level of the browser, with sub-locations and folders accessible with a click. As for the Search page, container information (name, size and CAS number) is listed in sortable results tables.
Inventories
The Inventories page holds a range of functionality relating to the management of individual inventories. Creating new inventories can be done here, along with removing old inventories. User management tools are also present where you can add, edit and remove users from individual inventories. When not using SSO for authentication, passwords for user accounts can be reset should it be required.
Container Recycling
Should you wish to enable or view container recycling records, you can do so from the Container Recycling pages. More information about container recycling is provided on its support page .
Admin Panel
From the Admin Panel page you can access a range of functionality relating to the administration of your site. For example, you can create new site administrator accounts for users (or promote existing accounts to have administration privileges), generate regulatory reports, view inter-inventory sharing settings and export a full copy of all inventory information into Excel at any time.
Roll-out Process
The recommended roll-out process for ChemInventory consists of four main steps:
First, you should decide on how many individual inventories should be created within your site and how they should be structured. When doing this, take into account any confidentiality and privacy considerations (e.g. do some inventories hold proprietary or restricted structures?) and which members within your organization will have access to each inventory.
Second, create the first inventory from the Inventories page. During this process you'll be prompted to designate a Group Administrator. This user will have full administrative privileges in the inventory (more Group Administrator accounts can be created later). You can set yourself to be this user if you wish.
Third, work with the administrator of the first inventory to have it set-up (refer to the set-up guide ). During this process, make a note of any difficulties or obstacles that you noticed to help guide the creation of the other inventories within your site.
Finally, create the remaining inventories. We recommend that each individual inventory is set-up fully before inter-inventory sharing settings are configured.
Additional notes
It is worth noting that users can be given access rights to more than one inventory within your site. This can be useful, for example, when laboratory technicians or managers need access to multiple inventories. Any user within your organization can also be granted Site Administrator privileges. There are no limits on the number of site administrators within your license.