Research laboratories frequently order compounds in quantities greater than required, increasing storage requirements in the lab and leading to waste when the container reaches its expiration date. Container recycling allows groups under the same volume license to share with each other their containers which are no longer required, cutting back on duplicate orders and reducing expense.
How does container recycling work?
When a container is marked as in recycling it is added to a separate recycling list. Containers on this list appear in search results for all groups under the same volume license, independent of the sharing settings between individual groups. Users can also browse containers on the recycling list by visiting the Locations page.
It is important to note that containers on the recycling list are not removed from the originating group's inventory. They remain there, and their original location is visible to searching users. Searching users are given the contact details of the container's group administrators so that they can get in touch if they want to collect the container.
Searching users are freely able to move containers out of the original group into their own inventory (if they collect the container from this group), or mark the container as disposed (if they empty the quantity remaining in the container). All movements and disposals relating to container recycling are recorded and can be viewed by site administrators.
Recycling your containers
Please note that the recycling feature will not be visible until it is enabled by your volume license administrators.
It only takes a second to add a container to the recycling group. As soon as containers are added, they are visible to all groups under the same volume license as your group. To add a container, head to the container's information page from search results or the Locations page and click on the Recycle container button.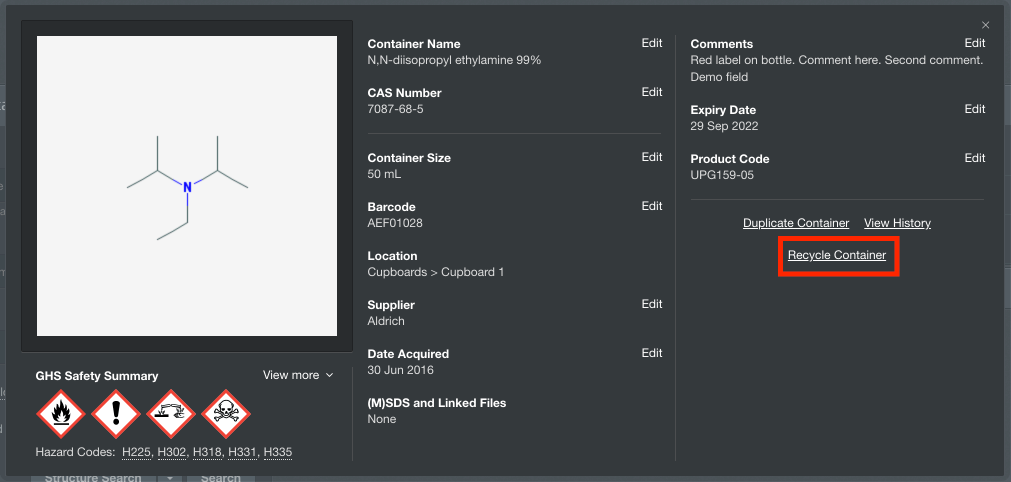 To remove one of your containers from the recycling location, you will need to follow the same procedure as when adding to the recycling group. In this case the button will read Remove from Recycling.
Finding recycled containers
Containers that have been recycled by other groups will show up in your search results when the Search shared inventories box is checked. As with results from any group, click on the result header to view individual containers that were found.
You can also browse recycled containers from the Locations page by clicking on the Container Recycling group.

Moving and disposing recycled containers
Containers that are listed in the recycling group can be moved freely between the container's group and your group, a useful tool if the originating group no longer wants to hold onto the container. As with any container in your own inventory, click on the move container button next to results under the recycling group, then click on the location in your inventory where you would like to move it to. To dispose a container, click on the red dispose button next to the container record.